By billalpert | Events , The Kitchen Sink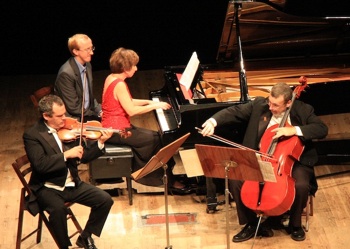 Friends of the Studio The Pacific Trio perform in Rybnik, Poland
Our dear friends John Walz, Edie Orloff and Roger Wilke write:
Greetings from Europe. We are having a wonderful tour with the Pacific Trio. We have done concerts in Poland and Germany so far, tomorrow we are in France, then back to Germany. We finish up in Munich, playing at the Gasteig, which is the release concert for our new CD of American works.
This, the latest of many European tours by The Pacific Trio, brings home to us the universal nature of music. A great performance of live music will capture the imagination of people across any culture, social class, political or religious belief. Our performing artists have done much to promote understanding and cooperation across the far corners of the Earth.
Frequently we see the world in a distorted view of controversy, conflict and turmoil on TV and in newspapers. Yet as a race, humans share much more that connects us than separates us. Follow our intrepid three friends across the planet and you'll find living rooms and auditoriums full of diverse audiences that celebrate the universality of great music.
In what city, country or continent could Gershwin's Second Piano Prelude (arranged for trio) not melt your heart?