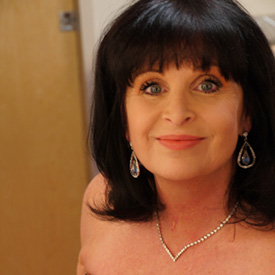 Melanie Alpert, Teacher of Voice
"What I've learned over these 20+ years of teaching is that anyone can improve, not just the "talented" few. That learning to sing like a pro is truly so simple a nine year old can do it. And that succeeding as a singer isn't some magical process. Instead it's about following a system. It's about doing simple things and following through consistently over time."
A graduate of Cal Poly Pomona, Melanie Alpert has won acclaim and awards for her singing throughout Southern California. She has been a frequent soloist with area concert bands, choirs and symphony orchestras as well as performing in operatic leading roles and recitals. Some of her favorite roles are Violetta in La Traviata, Rosalinda and Adele in Der Fledermaus, Norina in Don Pasquale, Laetitia in The Old Maid in the Thief, Carmen Ghia in The Stoned Guest and Isabellle/Madeline in the west coast premier of Henry Malicone's opera, The Face on the Bar Room Floor. She has been the featured soprano soloist in such works as the Bruckner Te Deum, the Pergolesi and Bach Magnificats, Handel's Messiah, Mozart's Regina Coeli and Solemn Vespers, Debussy's The Blessed Damoiselle, the Poulenc Gloria, the Brahms Requiem, and Beethoven's Choral Fantasy and Ninth Symphony. Among her awards, Melanie has received the first place prize in the Metropolitan Opera District Auditions.
Though she still enjoys performing, she recently received rave reviews for her performance as Lady Thiang in Performance Riverside's production of The King and I, she now dedicates most of her time to teaching. Melanie founded and conducted the popular Kid's Chorale vocal performance classes through the City of Rancho Cucamonga. She conceived and implemented the choral music program for schools in both the Alta Loma and Upland School Districts where she brought music to thousands of students over a 15 year span. In recent years she donned a new hat as Music Director and in the last several years has music directed many musicals.
In Southern California Melanie enjoyed a busy private vocal studio. Her students have been winners or finalists in several prestigious national, regional and local vocal competitions, including The Michael Feinstein Great American Songbook Initiative Vocal Competition, Classical Singer Vocal Competition, Los Angeles County Music Center Spotlight Awards, Southern California Vocal Association, Professional Opera Singers Association, Intimate Opera, John Child Walker, San Bernardino County Solofest, and the Chaffey Joint Union High School District Solofest.
Melanie's students have been accepted to some of the finest music and performing arts schools in the country, including Oberlin, Manhattan School of Music, Columbia University, Pace University, USC, UCLA, Cal State Fullerton, AMDA and many more. Her students are now performing not only regionally and nationally but internationally as well. They are performing on the operatic, musical theater, cruise line and Disney stages. Her students have participated in studio master classes and private coaching sessions with international opera star Carol Vaness and Broadway's Danny Gurwin, among others.
Melanie is a proud member of the National Association of Teachers of Singing, Southern California Vocal Association, Professional Opera Singers Association, San Bernardino County Music Educators Association and the Pomona Valley Musicians Club. She is a multiple recipient of the PTA Honorary Service Award and a multiple nominee and winner of the Inland Theater League Awards for both performance and music direction.