By billalpert | The Kitchen Sink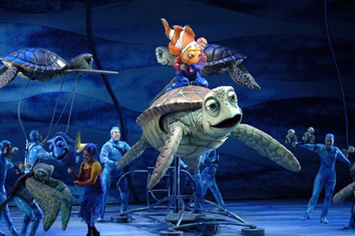 Finding Nemo Musical Stage Show at Walt Disney World
Image copyright wdwinfo.com
Today's return trip to Animal Kingdom brought us an unexpected treat. Disney's Finding Nemo the Musical, a stage version of the popular animated feature is by far the best such live show we've ever seen on a Disney Property.
Brilliantly performed, with dazzling puppetry effects (by Michael Curry of Lion King fame), the 30 (or so) minute production does an amazing job of capturing the spirt and storyline of the full length film. There are 19 original songs by Tony award winner Robert and Kristen-Anderson Lopez (of Avenue Q.) The songs and narrative are expertly intertwined into a compelling story that kept even the large contingent of tiny tots in the audience riveted, and captured imaginations of young and old. The theater is comfortable, with good visibility all around. Sound and lighting were flawless.
The three of us walked out swept away by the emotion of the whole thing. Brandon made us stop to buy the CD before we could leave! I don't know of this show will ever make it to Disneyland, but if you're planning a trip to Orlando, be sure to put this one on your list!